2020 New CES Amazfit T-rex T rex Smartwatch 5ATM 14 Sport Modes Smart Watch GPS / GLONASS MIL-STD For IOS Android
Tips:
Daily use mode: 20 days heart rate monitoring always on, sleep monitoring; GPS was turned on for 13 minutes a day, 150 messages are pressed daily to activate the screen,
the wrist is raised 30 times to activate the screen, 5 minutes of other operations. Basic watch mode: 66 days Bluetooth phone connection off, Heart rate monitoring and other functions,
the screen is activated when you tilt your wrist 100 times a day. GPS continuous working time: 20 hours GPS activated for exercise tracking and heart rate monitoring.
12 military grade certifications withstand harsh environments
Reliability and reliability are especially important for outdoor smartwatches. The Amazfit T-Rex has passed 12 military certifications, ensuring its durability and resistance to harsh conditions.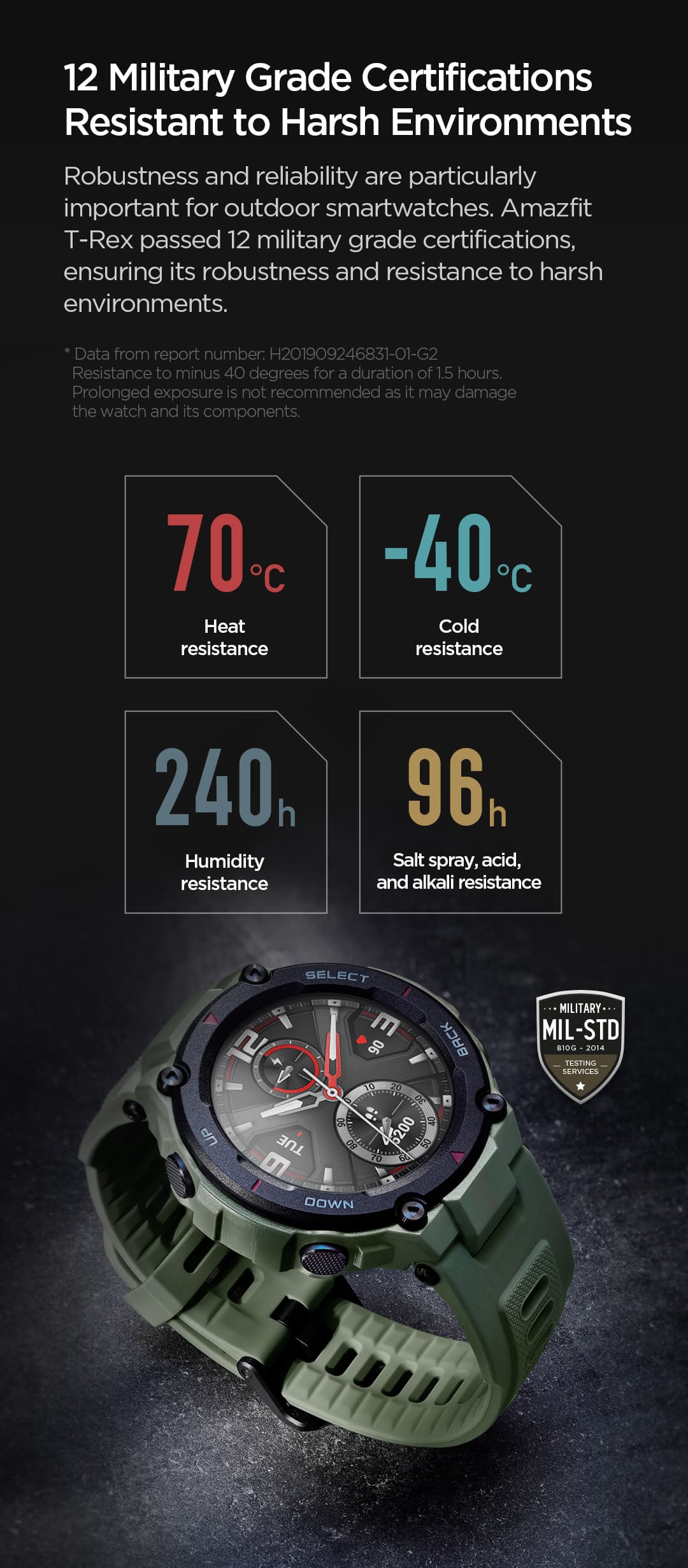 Amazfit T-Rex to the amusement park
Unleash Your Instinct 12 Military Certificates | Rugged case 20 days battery life | AMOLED display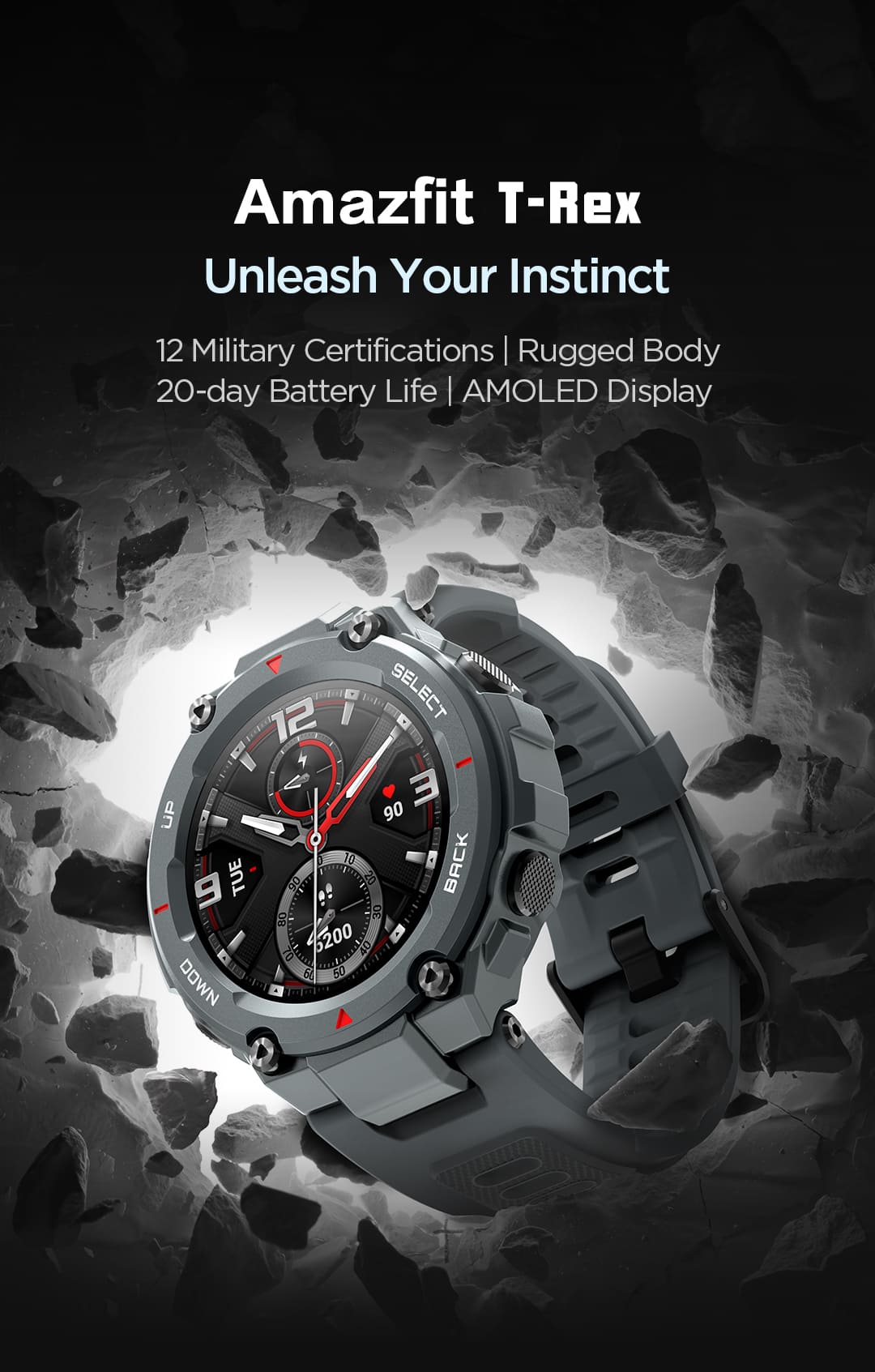 Tough on the inside tough appearance, solid workmanship
Amazfit T-Rex amusement park shape, strength, solid color from different angles and is filled with strength.
Reinforced design of body parts and internal structure takes into account a sense of strength and practicality, making it tough on the inside, and making it a partner you can rely on.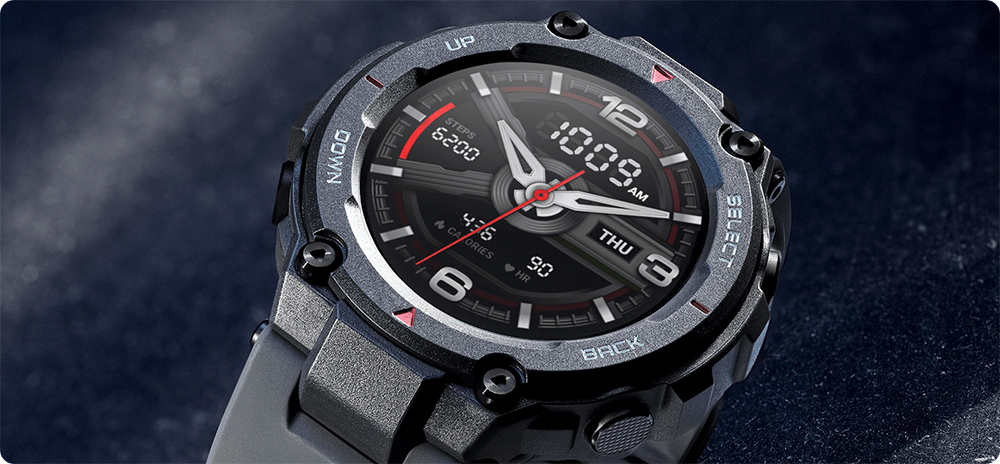 The exterior of the watch case is convex, which effectively reduces vibration and protects key components.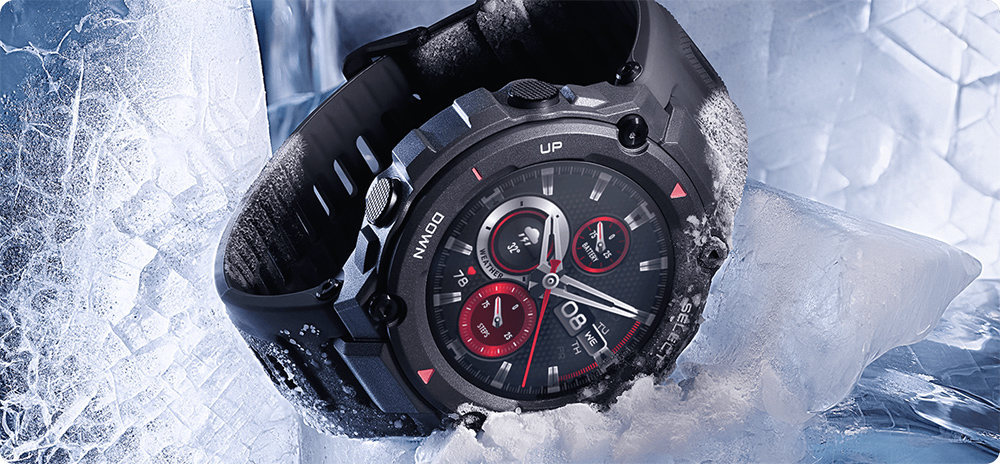 Large engraved metal buttons let you quickly find controls.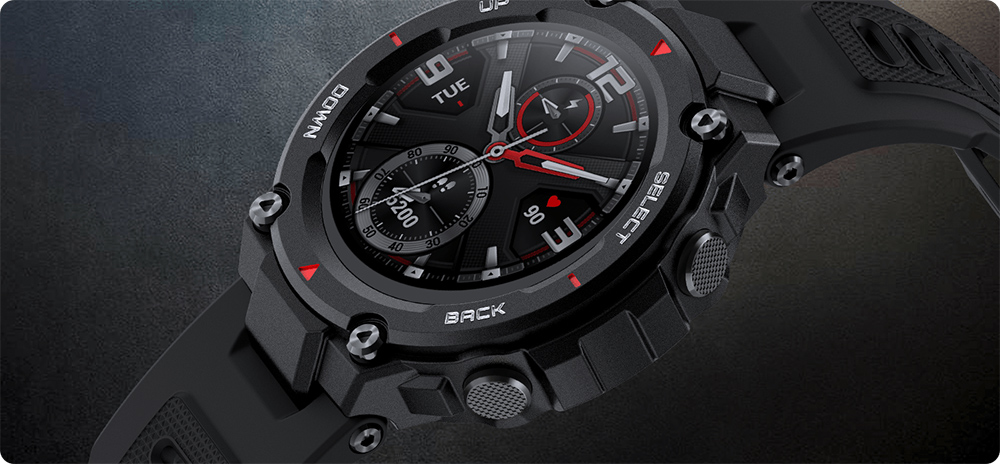 The silicone strap is skin-friendly and comfortable, and the inner sweat-wicking design is breathable, keeping it dry and non-sticky.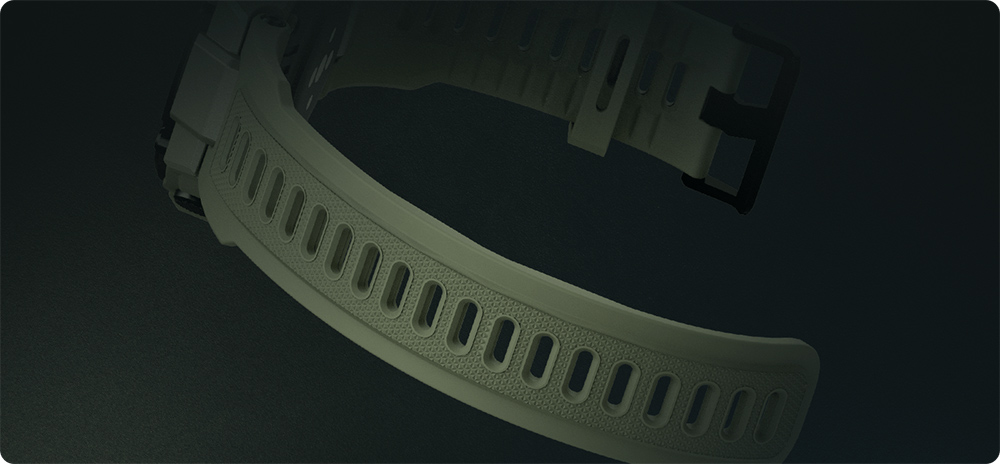 20 days ultra-long battery life fighting the desert with you
New circuit design specially designed for Amazfit T-Rex, improved low power consumption chip and deep power optimization give the Amazfit T-Rex a longer battery life. Stays with the user for a long time, allowing you to wear it without worry and never think about charging.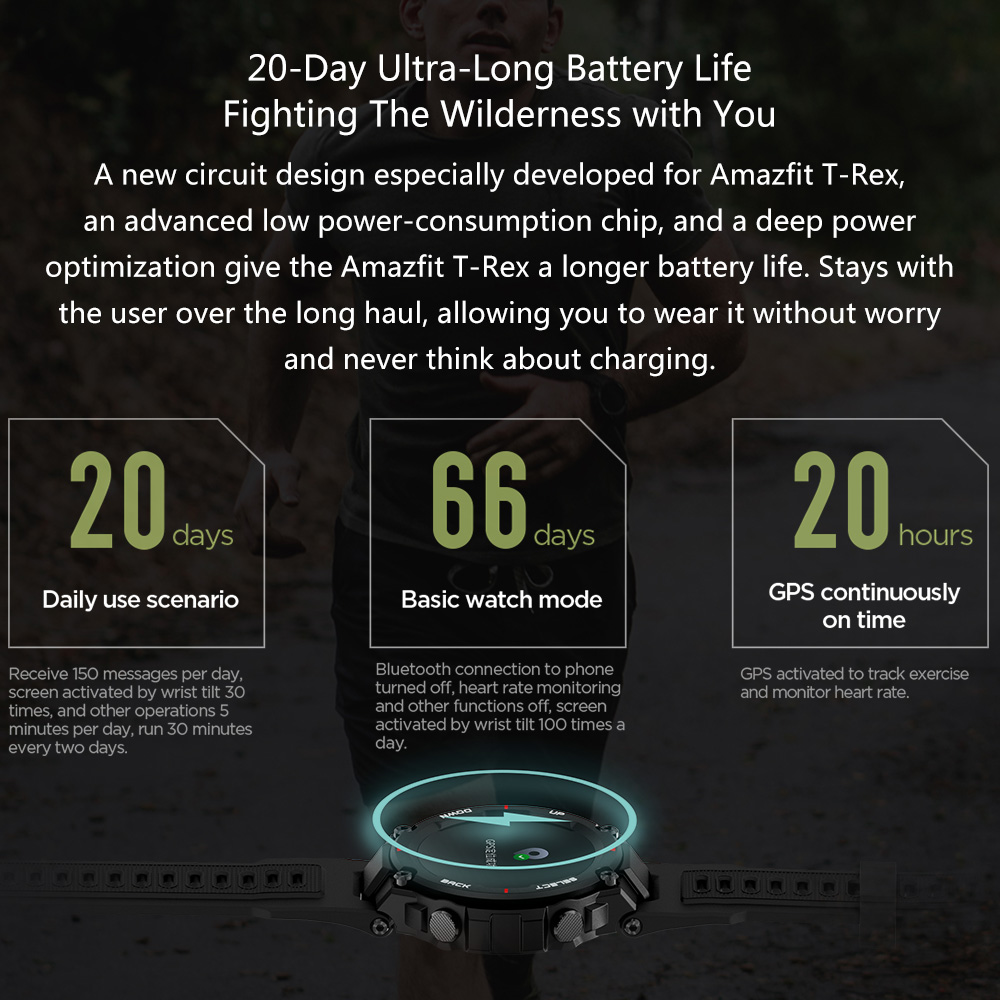 1.3 inch AMOLED Color Screen and Always On Display to choose Watch face care to match your personality
The Amazfit T-Rex amusement park uses a 1.3-inch AMOLED color screen that supports an always-on display, so important information is indicated by simply lifting your wrist. Plus, the variety of gorgeous watch faces allows you to fully express your personality.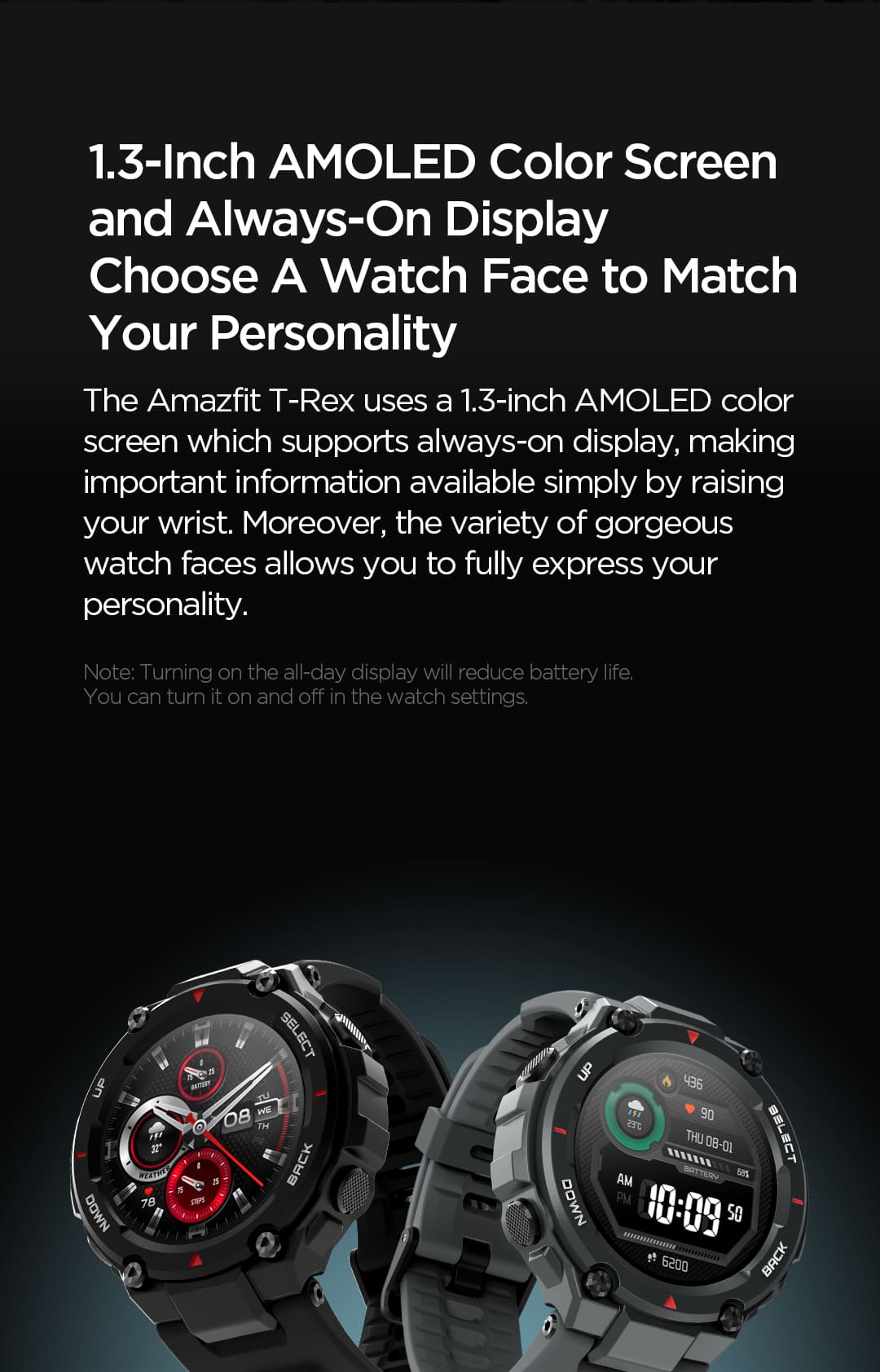 High precision GPS dual satellite positioning optimized efficiency, faster and more accurate positioning
The watch uses Sony's high-end GPS chip and built-in high-precision dual-satellite positioning system. We've also optimized the watch case materials and internal layout, and even highly optimized signal reception to account for hand interference while wearing. Signal performance has been greatly improved, making satellite searches faster and more accurate, meeting your positioning needs in urban jungle and wilderness canyons.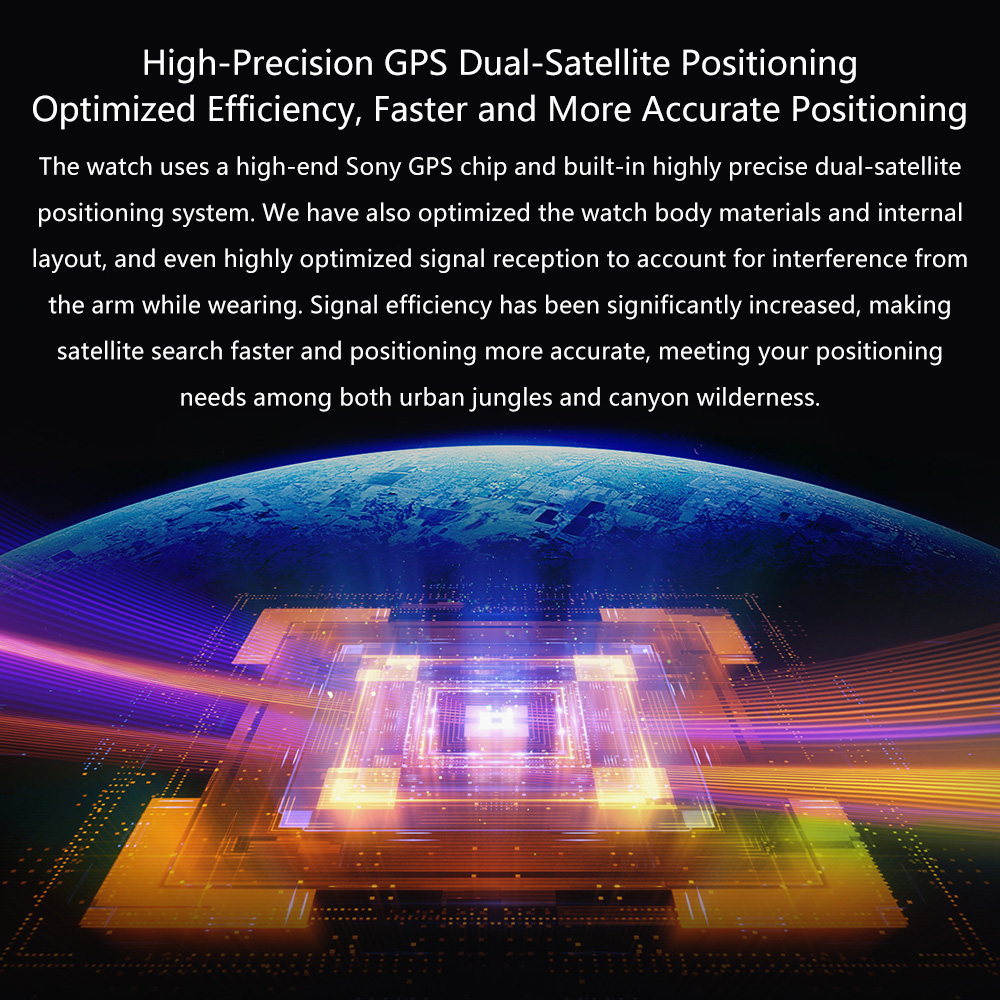 Water resistant to 50 meters 14 sport modes
Amazfit T-Rex has 14 built-in professional sports modes and is waterproof up to 5 ATM. You can wear it while swimming in pools and open water to meet the different needs of athletes. The watch also tracks data such as heart rate and exercise duration, making your workouts safer and more effective.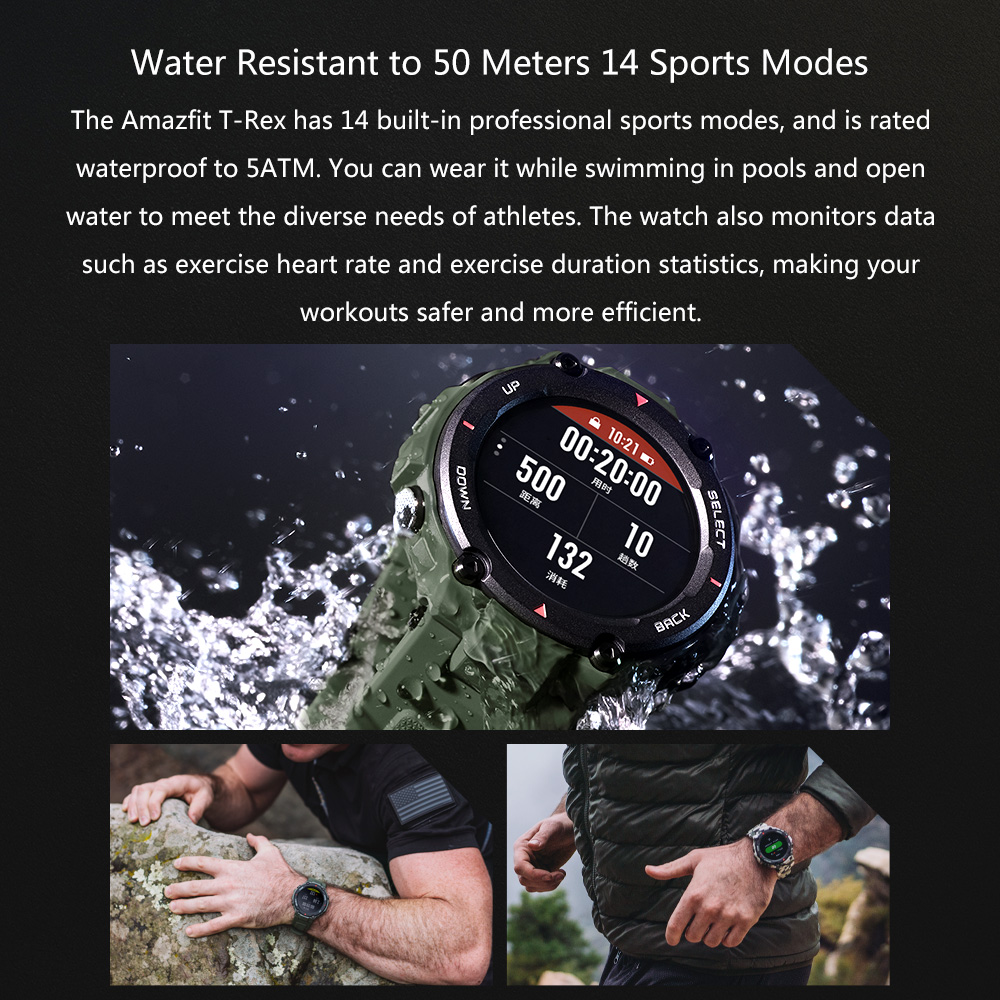 Heart rate monitoring throughout the day, focusing on your health
The watch is equipped with Huami's self-developed BioTracker ™ PPG optical sensor, which provides high-precision heart rate monitoring 24 hours a day. The watch also releases reminders to stand by, which encourage you to develop healthy habits and become your best self.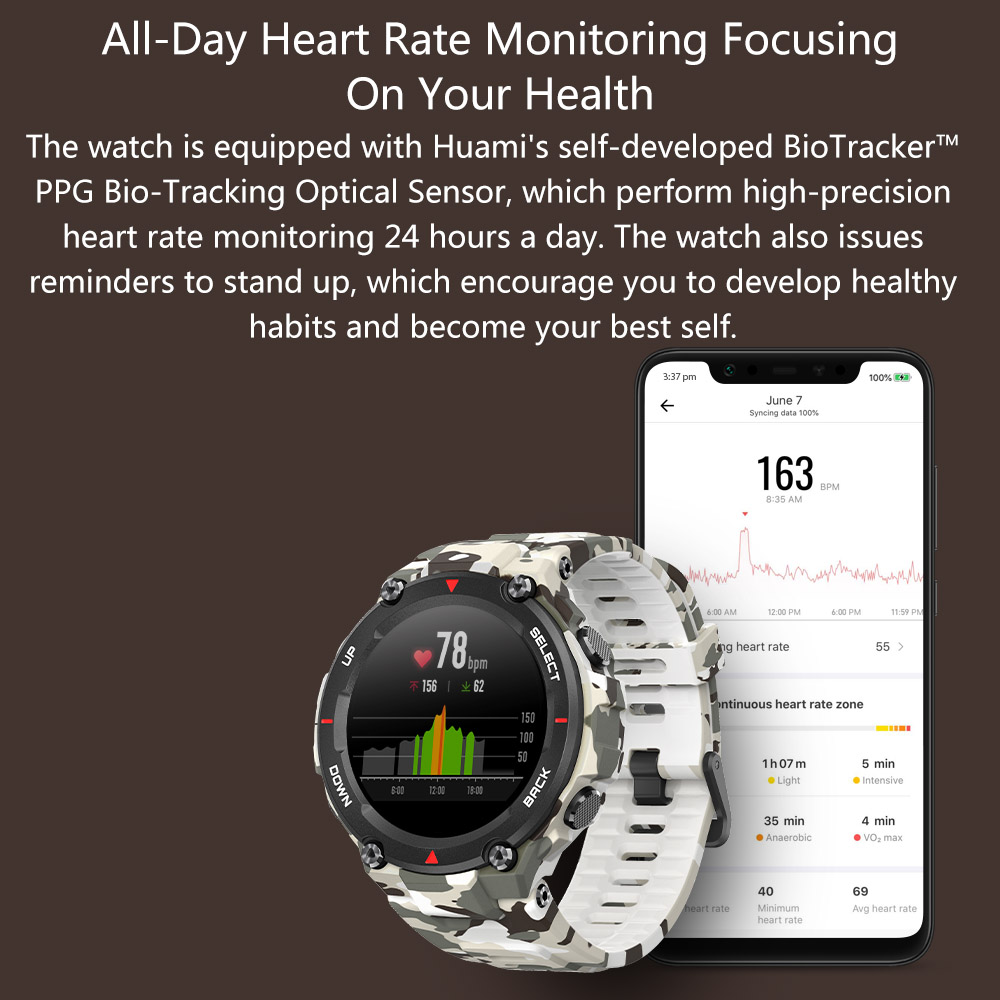 Weather notifications, call reminders, more practical tools on your wrist
Amazfit T-Rex has many smart functions including weather forecast, event reminders, call reminders, app notifications and more, offering various practical tools to make your daily work and life easier.