Xiaomi's new product launch conference, the projector is developed and produced by Fengmi
From March 29th to 30th, Xiaomi held the spring new product launch conference in two sessions, and used 7 languages to simultaneously conduct overseas product live broadcasts through 91 platforms, and users from more than 50 countries watched it online. In the overseas product release link, Xiaomi has successively released the Xiaomi Overseas Youth Edition mobile phone, the Xiaomi bracelet, and the Mi Smart Projector 2 Pro projector.
Xiaomi Mi Smart Projector 2 Pro is developed and produced by Fengmi Technology
It is reported that Mi Smart Projector 2 Pro, which is mainly aimed at overseas markets, has undergone an all-round upgrade compared to the youth version on sale. In terms of display effect, 0.47" chip plus 4-channel LED light machine brings 1300 ANSI lm brightness, and clear FHD image quality can be seen during the day; omnidirectional automatic picture correction, no matter how you put it, you can get the best rectangular projection effect; Sensorless focus, TOF+ camera dual focus mode achieves 2s fast sensorless correspondence. At the same time, this projector is the first in the industry to launch Google Assistant voice control, using Google Home and Google Assistant to control other IoT devices; in addition, this device is pre-installed The official Google certified version of AndroidTV, and the certified version of Netflix; and through ChromeCast device projection, mobile phones/PAD/laptops can be wirelessly projected to the projection; greatly enriching overseas users' demand for high-quality content.
Judging from the use effect, this projector has a wide color gamut of 125% Rec.709, can achieve HDR 10 decoding, is equipped with dual 10W full-frequency high-definition speakers, Dolby Audio + DTS-HD dual decoding itself is a theater-level audio; Allow users to enjoy cinema-level audio-visual effects at home.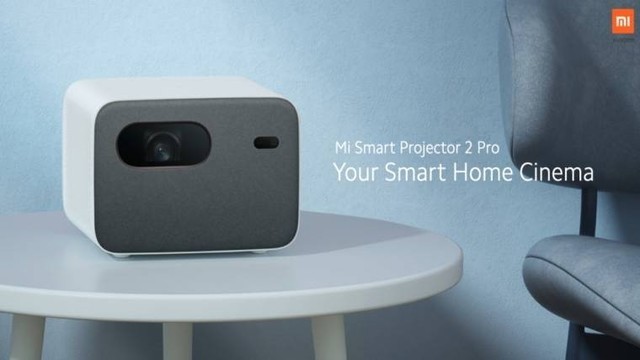 It is understood that the Mi Smart Projector 2 Pro launched by Xiaomi this time is developed and produced by Fengmi Technology, a joint stock company jointly established by it and the leading domestic laser display company Guangfeng Technology (688007.SH).

Public information shows that Fengmi Technology was established in 2016 and is committed to the research, development, production, sales and operation of new smart display large screens and audio-visual entertainment products. The core business model is "smart hardware content sharing": that is, to sell smart lasers. Projection products are the entrance, providing large-screen services such as videos, movies, games, etc. through its own OS system, and obtaining income from various value-added services such as advertising, membership, and distribution.

Especially in the field of laser TV, Fengmi Technology has a strong momentum of development. It focuses on the R&D, manufacturing and sales of laser TV sets. Its business model is: Fengmi Technology completes the R&D and design of the complete machine, purchases laser TV optics from Guangfeng Technology, and purchases complete machine parts and components, all of which are sent to OEM The manufacturer manufactures the complete machine and then sells the complete machine to the customer. Among them, Mijia laser TVs are sold to Xiaomi Communications, and "WEMAX" and other self-branded laser TVs are sold to other customers.

Relying on the leading technology patent advantage of Guangfeng Technology in the field of laser projection display, and the advantage of shareholder Xiaomi Technology in the procurement and marketing channels, the business of Fengmi Technology has achieved rapid development after its establishment. From 2017 to 2019, the company achieved an increase in operating income of 78,058,400 yuan, 330 million yuan, and 700 million yuan, respectively, maintaining a doubling trend. During Double 11 in 2020, on the three e-commerce platforms of Tmall, JD.com, and Xiaomi Youpin, Fengmi Technology has won double championships in category sales and sales. Since 2018, it has won this "laurel crown" for three consecutive years. The sales performance is quite impressive.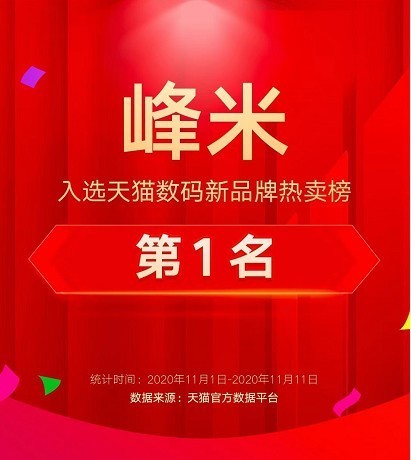 On the basis of consolidating and expanding its advantages in the laser TV field, Fengmi Technology entered the smart micro-projection market in 2019 and complemented the product line layout. After the launch of the first product, the Mijia Projector Youth Edition, sales and market feedback were good. Up to now, Fengmi Technology has owned a variety of consumer-grade products including 4K laser TVs, smart projectors, and laser projectors, and has released a self-developed open operating system--Feng OS, equipped with full-screen content previews, Built-in Xiaoai classmates, customized homepage and other functions, provide end users with intelligent services and a more convenient and comfortable large-screen human-computer interaction experience.


Actively improve overseas layout and embrace the blue ocean market

Through ODM for Xiaomi, Fengmi Technology has rapidly opened up markets in Europe, the Middle East, and Southeast Asia in recent years. On this basis, Fengmi Technology is also vigorously developing its own brands.

In January 2021, Dice, the overseas version of Fengmi Projector, successfully crowdfunded in Taiwan. The completed amount exceeded 75.66 million Taiwan dollars, which is equivalent to about 17.51 million RMB. The number of crowdfunders was 4,325, making it the No. one new record, and also won multiple crowdfunding-related data championships.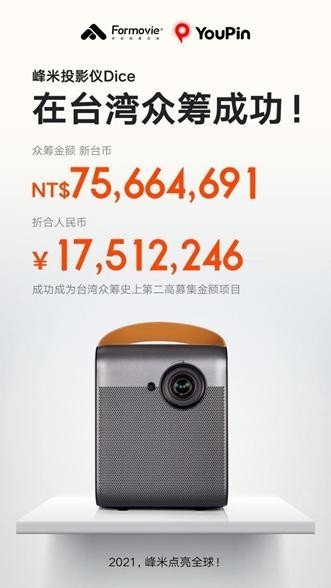 At the end of 2020, Fengmi overcame the impact of the epidemic and launched the first overseas 4K laser home theater Fengmi Cinema, which has now covered most of the world in DTC channels. At the same time, the North American Wemax brand has landed on the North American Amazon platform. According to sources, in 2021 Fengmi will sell two or more overseas products simultaneously with the domestic market. Overseas distributors, cross-border e-commerce, customer service, and after-sales networks will cover mainstream regions and countries around the world in 2021.


On the evening of March 26, Fengmi Technology's parent company Guangfeng Technology (688007.SH) issued the latest announcement stating that Fengmi Technology has increased the capital of its wholly-owned subsidiary Formovie Limited by 4 million US dollars, and the capital increase funds will be used to subscribe for WeCast Technology Corp. (below (Referred to as "WeCast") 51% equity. Formovie Limited will subscribe for 5.1 million A+ round preferred shares issued by WeCast at a consideration of US$4 million.


Fengmi's capital increase in Wecast is considered by the market to further strengthen its overseas business layout. Wecast is based on localized intelligent applications in North America and faces the global market. Its technology research and development direction is highly complementary and synergistic with Fengmi Technology's existing business. This subscription is conducive to Fengmi Technology's introduction of international talents and teams. , Which helps Fengmi Technology to reserve high-quality resources around its main business and expand its business development areas.


From the perspective of future development, smart micro-investment is a hot spot in the current market. Its compound annual growth rate of the market is more than double digits, and the industry has a broad space. Fengmi acquired Wecast, spanning the tuyere industry, and facing the domestic and overseas blue ocean markets. The space is full of imagination.