Xiaomi to raise TV prices from August 28 as cost of display panels surges: Report
Earlier this week, a few rumors surfaced on Weibo, a Chinese microblogging website, which stated that the price of Xiaomi TVs is expected to rise soon. Reportedly, the cause for the price hike across the board is due to the rise in the cost of display panels used in its TVs.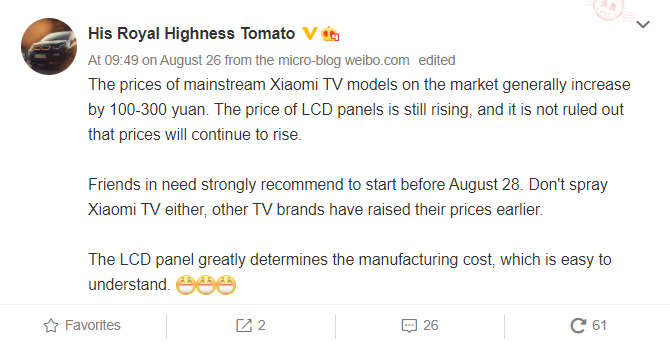 Reportedly, Xiaomi will be raising the price of its entire lineup of TVs. The blogger reported that the price of LCD panels has risen significantly in recent times. Thus, one can expect a rise in Xiaomi TV,
which will be announced by the company on 28th August 2020 through their official offline and online stores. The blogger also added that the mainstream Xiaomi TV models that are currently available in the market, will have their prices raised,
with hikes ranging from 100 to 300 Yuan (roughly 15 to 45 US Dollars).
While the original report from the blogger did break the news, ZNDS network confirmed it through their exclusive sources. According to their sources, Xiaomi is indeed looking to adjust the prices of their TV lineup from Friday onwards,
although, the company will be announcing the price increase at a later date.
A separate report from an analytical firm revealed that prices for display panels have risen in August, with 55 inch and 32 inch panels rising by 10 percent, while 50 inch and 65 inch panels having prices rise by 8 to 10 percent as well. Unfortunately,
this is still not confirmed officially, so we will have to wait and see if Xiaomi actually ends up raising the price or not, and whether this decision is also reflected in overseas markets like India.