Xiaomi sold 1,660 units of its Redmi Smart TV Max 98 in a single day in China
Xiaomi has today released a sales report related to the company's 10th anniversary sale season. In the report, the company reveals that it managed to sell more than 1,660 units of the Redmi Smart TV Max 98.
Making the announcement on Weibo, the company said that "the 98-inch TV models sold less than 100 units per month in the market but now Redmi sold more than 1,000 units in a single day." The company believes
that it has now managed to popularize the big-screen Smart TVs and has facilitated people to have high-end big-screen TV in their homes.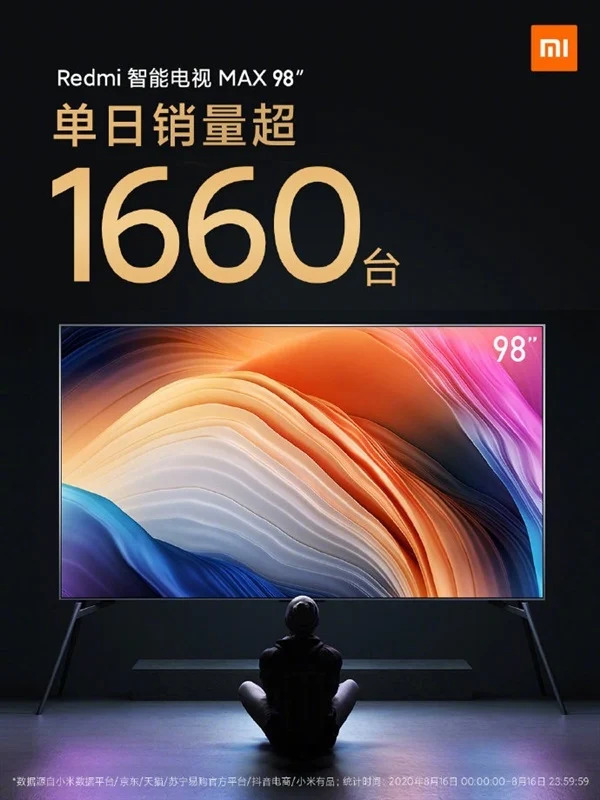 The numbers posted by Xiaomi are quite impressive given that almost a 100-inch TV is a new category and now many people are interested in having such as massive-sized TV in their homes nor many have the facility for this.
Even if they want, not everyone is ready to shell out the money.
The Redmi Smart TV Max 98 costs 19,999 Yuan, which roughly converts to around $2,825, which is comparatively less than what other companies in this same segment charges. Thus, the pricing could a major factor behind
such demand for the 98-inch TV from Xiaomi.
For those who are unaware, the Redmi Smart YV Max 98, announced in March, comes with a 98-inch 4K UHD display panel, having 85 percent NTSC, 192 dynamic backlight zones, MEMC motion compensation, and more image quality tuning technology
It is powered by a custom 12nm processor along with 4GB of RAM and 64GB of internal storage. The company is also offering a special one-to-one professional customer care service with this new TV, which includes pre-sales,
site survey, installation plans, a special delivery vehicle, and a professional installation team.